Choosing a Pattern
Creative Rug Making
You can create your own designs. In Japan many rug hookers create their own designs. See examples on our international link page. Please click the gallery of the Japanese Society of Rug Hooking and see for yourself.
Predesigned Patterns
Danella has rug-hooking kits that consist of printed hessian with the right amounts of wool corresponding to each design. A color chart and color card makes it easy to place the correct colors of yarn.
All Kits and Prints - Graphics
Pricelist of all Kits and Prints
If the patterns have any outlines, you hook those first. Then you fill out the remaining areas and last you fill in the background. You can hook more or less close. The loops are pressed through fabric, thus forming the pile on the other side, it is exciting to turn the frame and look at the right side. Is the result as you wish? You can easily correct any errors and if rows are too far apart it is sometimes possible to hook a row in-between.
Hooked Rug Kits and Patterns
A rug hooking pattern is a simple line drawing, which is carefully printed on a hessian. 2-300 different patterns are available. Some of these patterns are display on this website presented as finished articles. We use the old method of prick & pounce Design Transfer, all the patterns are stored as pricked parchment paper. So the price of a Danella pattern on paper is the same as the price of a piece of hessian with pattern preprinted.
Many of our customers' purchase pre-printed patterns. However, some people choose to use backing like burlap, monk's cloth or linen and draw their own patterns. It is considerably more challenging to do this and difficult to get the right amount of wool to complete the articles. All patterns can be bought with or without wool included.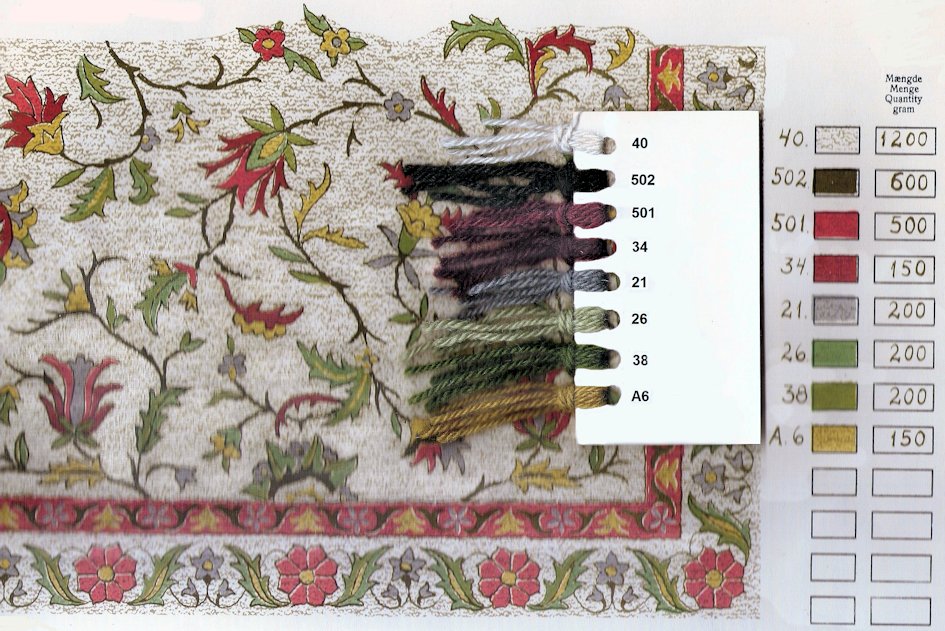 Color Plan for a rug: Pattern #425
Example of a Danella rug that is pre-designed
The two pictures above and below represent the same hooked rug: Pattern #425. On the picture below, the rug hooking pattern has been printed on hessian. Above: The color chart and Color yarn Card. With these materials readily available, you can begin the process of hooking straight away. With a little practice your hand crafted hooked rug could look like the rug below when completed.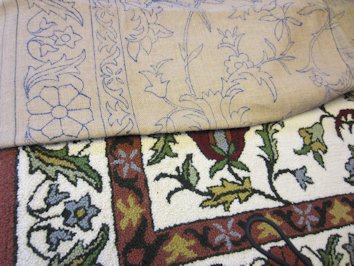 Preprinted pattern and finished carpet: Pattern #425
Catalogues of Preprinted Patterns
For decades, the artist Jane Dyrdal worked to design Danella's collection of designs. She has her particular style but she did aim for covering many styles.
We have transferred most of the Danella design catalogues to E-books and book format. The catalogues below are available as follows:
that you can view on a tablet or computer or as

sold at a minimum price.

The books can be ordered by clicking the cover pictures to the right. Furthermore we still have three printed flyers on stock that you can order from here.Order flyers.